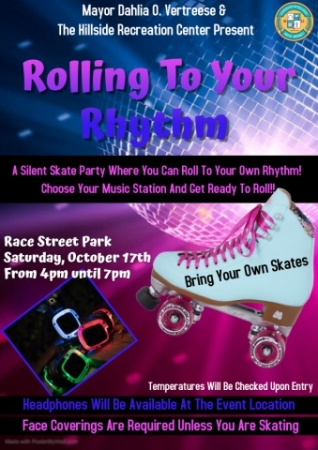 This event has passed.

Event Starts: Oct 17, 2020, 4:00 pm
Event Ends: Oct 17, 2020, 7:00 pm

Price: FREE

Event Location: RACE STREET PARK
Address: Race Street , Hillside, 07205
Contact Name: Al Hardy
Contact Email: AHardy@Hillsidenj.us
Contact Phone: (973) 926-2219
Mayor Dahlia O. Vertreese &
The Hillside Recreation Center present
"ROLLING TO YOUR RHYTHM"
A SILENT SKATE PARTY WHER YOU CAN ROLL TO YOUR OWN RYTHM!
CHOOSE YOUR MUSIC STATION AND GET READY TO ROLL!!
"BRING YOUR OWN SKATES"
TEMPERATURES WILL BE CHECKED, AND A WAIVER MUST BE SIGNED!