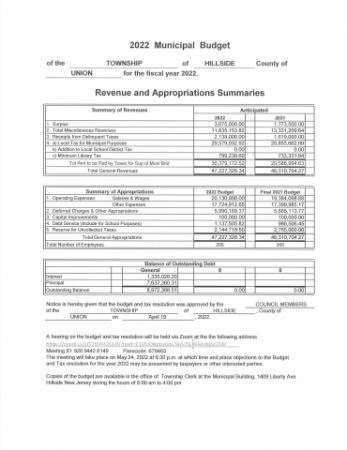 This event has passed.

Event Starts: May 24, 2022, 6:30 pm
Event Ends: May 24, 2022, 8:30 pm

Price: FREE

Event Location: The Township of Hillside
Address: 1409 Liberty Ave, Hillside, 07205
Contact Name: Shauyn Walker
Contact Email: swalker@hillsidenj.us
Contact Phone: (973) 681-7155
2022 Municipal Budget
A hearing on the budget and tax resolution wil be held via Zoom at the following address https://zoom.us/j/92894426149?pwd=K1VteDNpbytxbC9uS25LRkMrRjkvQT09 Meeting ID: 928 9442 6149 Passcode: 679463.
The meeting will take place on May 24, 2022 at 6:30 pm at which time and place objections to the Budget and Tax Resolution for the year 2022 may be presented by taxpayers or other interested parties.
Copies of the budget can be emailed to you. Please call the Township Clerk at (973) 681-7155 during the hours of 8:00 am to 4:00 pm.